Have you sometimes:
Wondered whether exterior wall, windows, roofing and below-grade waterproofing were addressed fully "on paper" before the bid?
Heard objections from a contractor or other party who challenges the wisdom of the exterior details, or proposes substitute products?
Found it hard to visualize the flashings and other concealed elements at critical areas?
Checked a set of plans and found a host of unanswered questions?
Leavitt Associates design evaluation helps the owner, architect, and contractor do their jobs because it:
Helps address scope, quality, and cost issues before the bid
Identifies technical problems and solves them while there is still time to change the design, before they turn up in the field
Reduces "head scratching" and "finger pointing" later on
And it results in a finished building that is less prone to problems.


Working with Architects to Refine the Design Before Construction
Leavitt Associates has worked successfully with world-renowned architects to refine construction details without compromising the originality of the design. The harder the problems, the more we enjoy solving them!
We review the construction documents and then illustrate difficult problem areas with quick illustrations to spotlight the issues. Difficult construction detailing and conditions usually arise because the problem is hard to visualize in the office. These issues get easier to solve when you can see where the problem lies.
Case in Point
In one recent example, an architect retained us to review the construction documents for a biomedical building. First we met with the designers to discuss their goals for the facade. Then we prepared a series of sketches, some on the spot, that show how to flash and waterproof ten special conditions that we identified as being particularly challenging. The architect's project manager estimated that our input saved several weeks of the design team's time and gave them added assurance that the difficult areas had received the attention they require.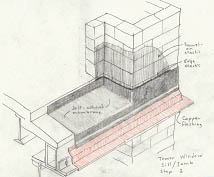 One of these conditions occurs in locations where the design uses deep recessed windows. These recesses give it a very expressive tectonic architectural appearance, but also create ledges and detailing challenges for the brick veneer construction.



Our sketches show a way to flash the deep window ledges reliably, without making unsightly roofing details visible on the face of the building.
The design included pre-finished aluminum window sills with a "slip" appearance, that do not lug into the adjacent masonry. We developed a concealed sill flashing to protect against window leakage. The wall cavity insulation meets the glass plane for maximum continuity of the thermal barrier, and a positive air seal is made around the window.
Step 1 shows the pan flashing in place, with self-adhered membrane jamb flashings draining into the pan
Step 2 shows the brick veneer and cavity insulation in place. The pan flashing extends into the adjacent masonry.
Step 3 shows the window in place, with the prefinished aluminum sill covering the concealed sill flashing.